Featured Animal Assisted Therapy Dog
Please Note: The dog in the accompanying photograph is the subject of the story, but any persons shown are probably not those in the story.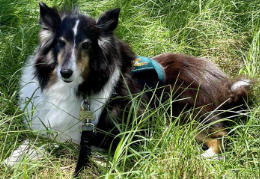 My dog, Madison, and I have been volunteering at Del Amo Hospital, Torrance, Calif., for several years. During each visit, we typically see three or four groups of patients, ranging from children to adults, who are being treated for mental health challenges. Each group of either Teen Girls, Boys, Pre-Teens or Adults sits in a big circle outside, surrounding Madison. This sweet Love On 4 Paws therapy dog loves to work the circle by greeting each patient, who gives her a treat, a pet, or a hug for dropping by. Madison usually gets comments like, "she is sooo cute, I love her," or "she is so soft"-- many of the participants miss their pets at home and share their names and breeds.
Recently, we had a very unique, heartfelt visit with one Teen Boy. He petted and fed Madison as the others have done, but then he started tearing up and shared that he once had a cat. He continued to cry and pet Madison; then asked if he could hold her in his lap. The other boys left, and the two bonded as Madison lay in his lap without moving, and he hugged her for well over five minutes. Madison had made a breakthrough with this boy, and he was comfortable letting her go after this experience. I have only seen this heartfelt moment a few times with adults at hospitals in our prior dog therapy visits. Madison has been a dog therapist for Love On 4 Paws for more than 8 years. She is a senior dog who is still doing very well. We love the impact Madison is making, and I think this important work helps her to feel younger.
Read More Dog and Cat Stories