Theo the Animal Assisted Therapy Dog
Please Note: The dog in the accompanying photograph is the subject of the story, but any persons shown are probably not those in the story.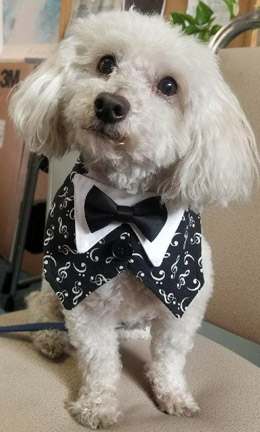 All the Love On 4 Paws' dogs are great with people and love their job. My dog, Theo, was never supposed to be a therapy dog. Theo was uncomfortable around strangers and had a difficult time learning basic commands. When my first therapy dog started aging, I knew it was time to find another dog to carry on her legacy. After trying to train another dog with no success, I decided it was Theo's turn to shine. I found a good trainer, and to my amazement, Theo learned to do a sit, stay and down and even appeared to enjoy the process.
After Theo passed the Love On 4 Paws' test, we began visiting locations where he would not be overwhelmed. Gradually, he began to embrace the experience and when he first approached a person, I was so proud of him that I gave him a big hug and a special treat.
Theo now makes people feel better when he visits, but the experience has also given him a purpose and a better quality of life. We always focus on the power the dogs have to help humans feel better. But in Theo's case, his work has transformed him from a shy, insecure dog into a confident therapy dog.
He's always happy to put on his vest, because he knows it's his "time to shine." I am very proud of him!