Love On 4 Paws Mission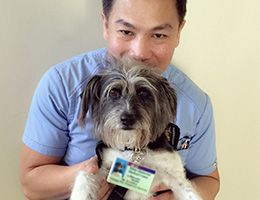 Mr. Scruffles at East L.A. Doctors Hospital
Love On 4 Paws is a non-profit, volunteer based organization committed to making a positive difference for those in need through animal assisted therapy. Our volunteers accomplish this by sharing the joy, comfort and healing power of their pet's unconditional love.
Our emphasis is visiting with adults and special needs children in hospitals and health care facilities, although we also visit schools and participate in community events. Love On 4 Paws is a section 501(c)(3) nonprofit charitable organization, established in 1997, and provides services to many facilities throughout the greater Los Angeles area. Love On 4 Paws has close to 100 volunteer teams, and visits with over 30,000 people each year.
Download our brochure in .pdf format: Page One, Page Two
What's Special About Love On 4 Paws?
Pictures. We provide a unique memento of the visit -- an instant picture of you with the dog, no charge. We find these pictures provide comfort long after the visit ends, and can even become treasured mementos.
Skills. Our teams visit frequently -- three times per month or more -- to maintain skills and provide even more smiles.
Professionalism. Our volunteers -- both 2 and 4 legged -- all wear distinctive uniforms and arrive on-time for scheduled appointments. We strive for professional behavior at all times.
Computer Records. Our online management computer system keeps ironclad records of all visits and health clearance forms, and makes them accessible to the facilities we visit.
Variety. We offer our volunteers a wide choice of places to visit.
Love On 4 Paws Organization
Love On 4 Paws is a section 501(c)(3) nonprofit charitable organization, FEIN: 95-4638836, California Charity Registration Number 107352.
Board of Directors:
Animal Assisted Therapy is beneficial in many ways.
Hospital/Health Facility Patients: Our volunteers see smiles from patients who rarely smile. They sometimes see a hand gently pet a dog -- a hand that hasn't moved in weeks. Language barriers don't exist -- everyone speaks "dog"! In addition, peer-reviewed studies show measurable improvements in stress hormone levels and blood pressure during and after a visit.
Hospital Staff: Visits by therapy dogs seem to improve morale and encourage positive feeling for those providing the care.
Visitors: Patients are often attended by anxious relatives and friends. The presence of a therapy dog can provide a welcome addition to the healing environment.
Students: Special needs students and even college students taking finals find themselves in high stress situations. Therapy dog visits help.
Community: Love On 4 Paws participates in community events. The intent is to introduce Animal Assisted Therapy to those who may be unaware of its benefits. Our dogs are there, too. They do most of the work.
Our own Volunteers: None of our nearly 100 volunteers is paid, yet they must follow extensive rules and protocols, fight LA traffic, and contribute many hours each month. Why do they do it? Answer: they're all great people with lovable dogs who enjoy making a difference.
Love On 4 Paws History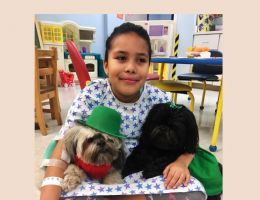 Oreo at White Memorial Hospital (on the right)
In 1990, Sharlene Lauretz began taking her dogs to visit a special education facility where her autistic, developmentally delayed daughter was enrolled. Sharlene was amazed that so many children, who often seemed unaware of the surroundings, responded to the dogs. Seeing that interacting with the dogs was clearly helping the children focus and concentrate, Sharlene recruited other people and their dogs to participate in Animal Assisted Therapy sessions.
By 1997 the group had grown enough to require a formal structure. Sharlene organized the group and created Love On 4 Paws, Inc., a California Non-Profit Corporation. More and more volunteers joined, and the list of hospitals and facilities continued to expand. By 2007 there were nearly 100 volunteers, and a website/online management system was created to handle visit scheduling and health clearance tracking.
In the following years, management focused on recruiting only the best teams, assuring the highest visit standards, and serving premier facilities. Evaluations, coaching, supply functions, facility interface, financial dealings, and administration were all handled by a core group of exceptionally dedicated volunteers.
By 2015, Love On 4 Paws had grown sufficiently complex that our first formal staff position was created. The goal is to assure than Love On 4 Paws will continue to operate far into the future
As a volunteer for Love On 4 Paws, you are part of a special group. The information under Frequently Asked Questions will answer many of your questions. If you have other questions, we are available and more than happy to answer them. Send us email or call us at (310) 547-2200.
Love On 4 Paws Newsletters