Testimonials
We at Love On 4 Paws want to share letters we receive from patients, family members, and caregivers.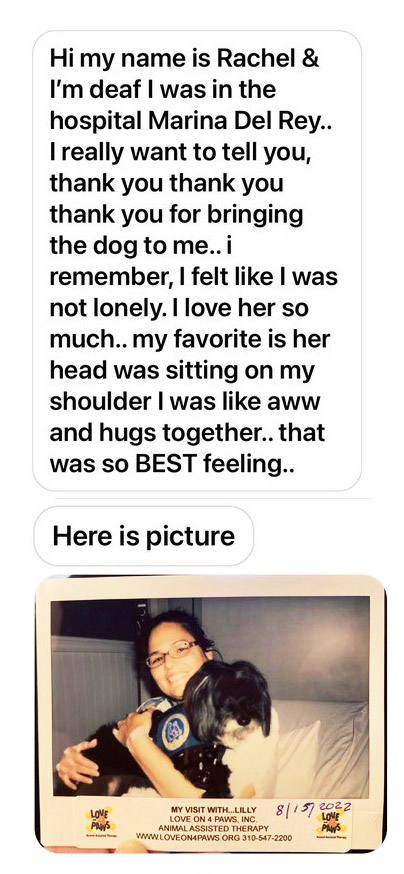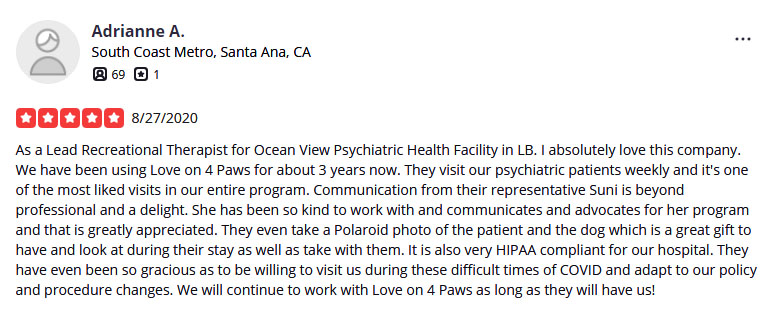 Dear Love On 4 Paws,
We want to thank you for the surprise visitors, Malia and Herbie, for my son this morning at the hospital.
My son, Ryan, was very happy to play with them. They just lightened up all of us. We didn't get the names of the gentlemen, but please pass our words to them. We are truly thankful for everyone who made this special moment happen! Thank you!
Yuka O.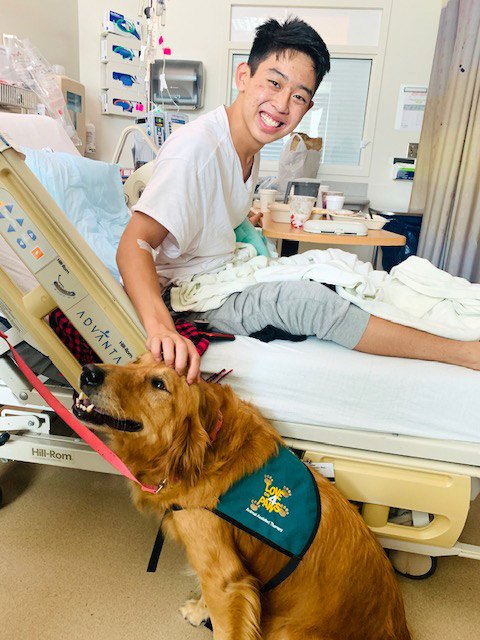 Hi Suni,
I wanted to thank you and your volunteers for the great experience you provide to folks. My wife, Carol has been in the hospital for 6 weeks. Your visits have put a smile on her face every time. She looks forward to seeing all, Malia, Maya et al.
Congratulations to you and all your volunteers. You brighten up the day for many people who need cheering; keep up the good work.
Warmest regards, Joel, September 10, 2019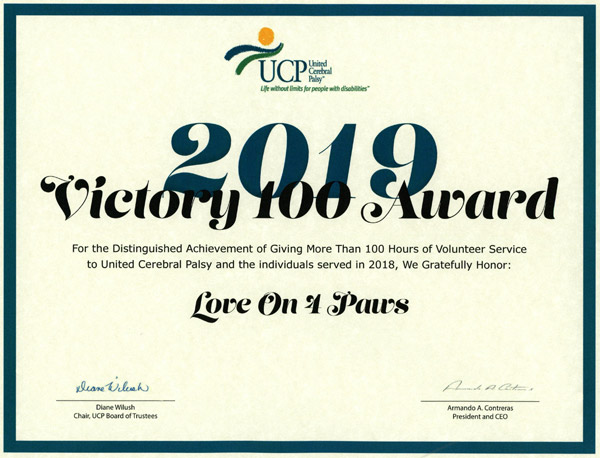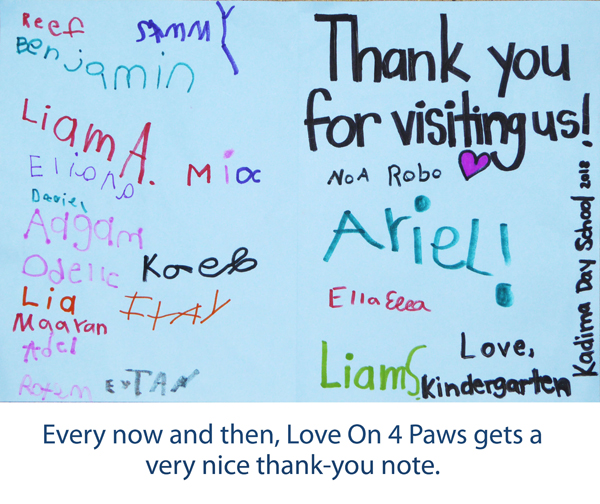 Jackson is one of the dogs with Love On 4 Paws. He visited a patient at one of our local hospitals, and apparently made quite an impression. We just received this snapshot of a thank-you card that the patient created. I don't know about you, but I'm kind of blinking back tears a little bit.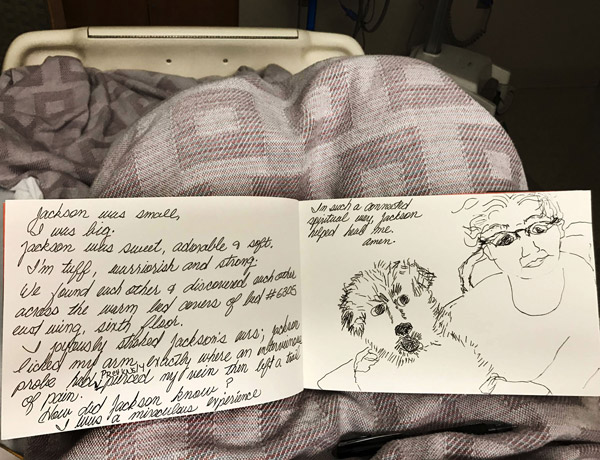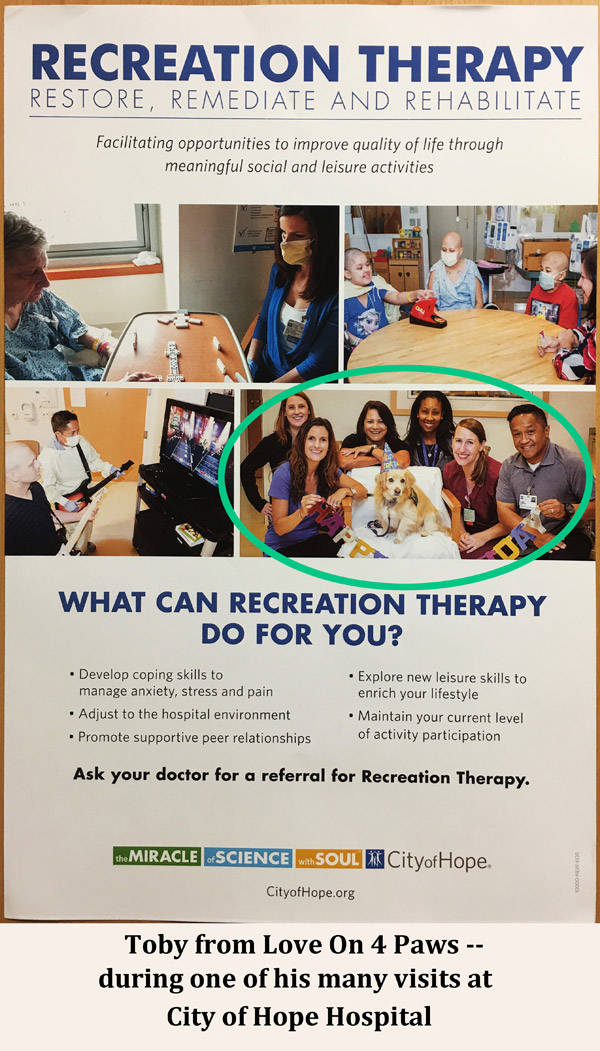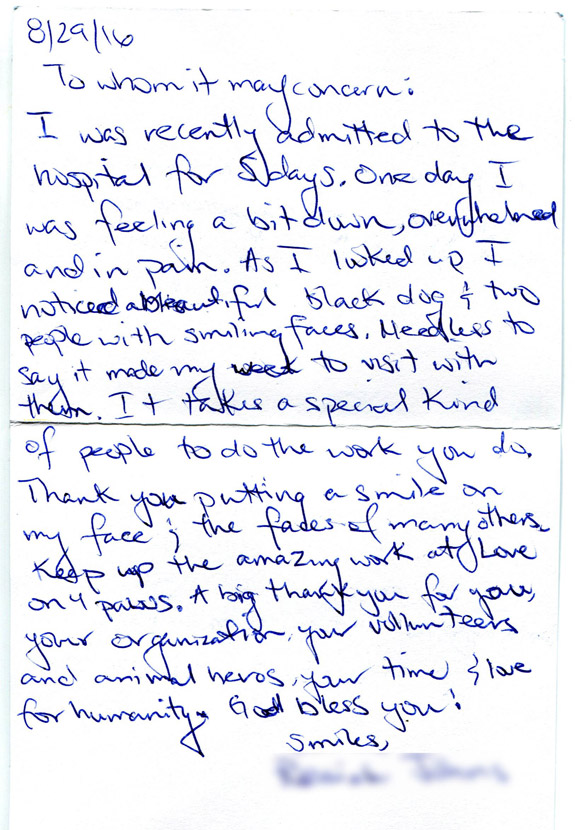 This visit was by our therapy dog Reggie, and the letter included a good sized check as well!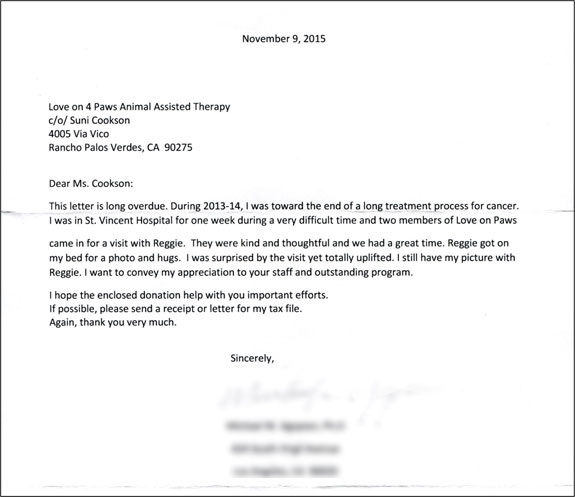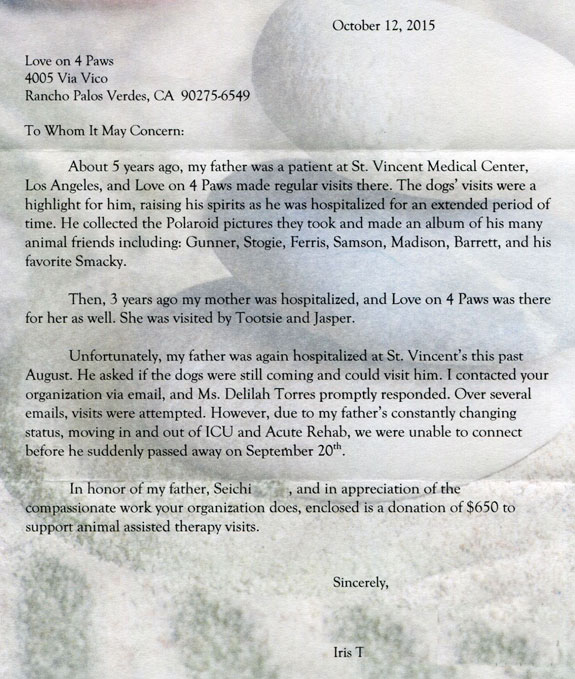 Paws for a study break: Canines make their pre-finals visit
Feeling stressed? Therapy dogs or a free massage might help
by USC Staff, Tuesday, May 5, 2015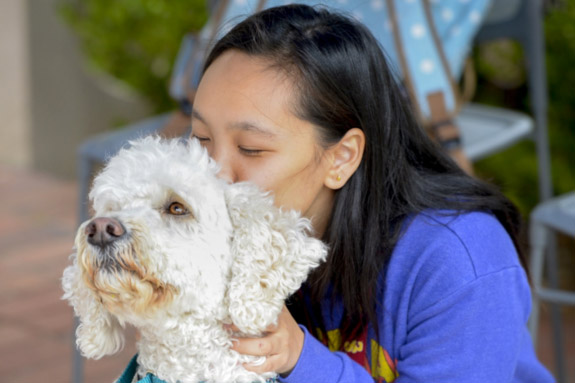 Freshman Liviera Leebong, 18, gives a kiss to Bodhi, a 5-year-old Labradoodle from Love On 4 Paws animal assisted therapy Tuesday. (USC Photo/Gus Ruelas)
For students stressed by the pressure of upcoming final exams, a therapy dog might be just the thing. Therapy dogs from Love On 4 Paws animal assisted therapy were on duty Tuesday afternoon on the patio of the USC Engemann Student Health Center for anyone needing the love of a canine friend.
Inside, the center's Trojan Conference Room became a relaxation zone with free massages offered. Engemann will host a second round of free massages and dog-time from 1-7 p.m. May 6.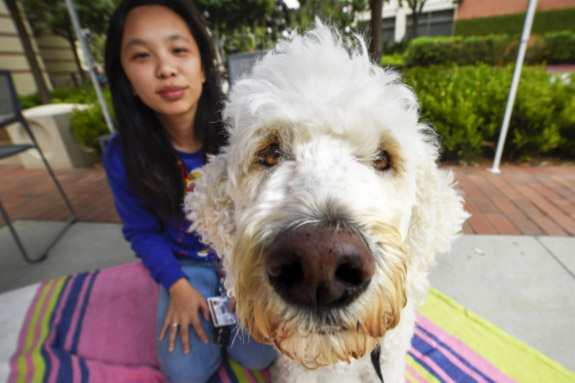 Bodhi mugs for the camera. (USC Photo/Gus Ruelas)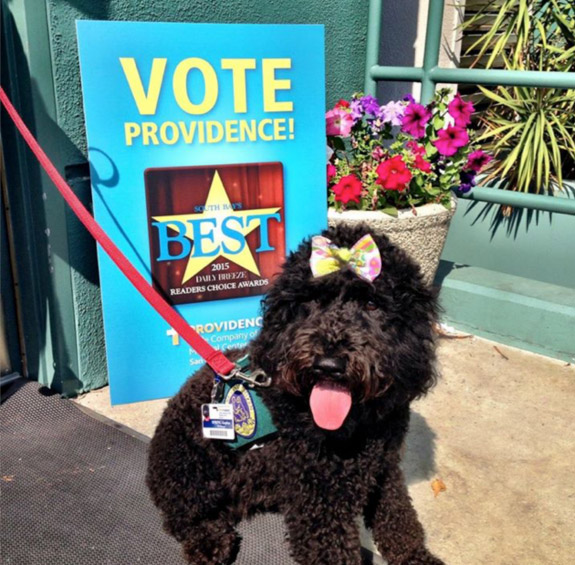 Providence Little Company of Mary Medical Center Torrance
Meet "Spring" a member of our Love On 4 Paws Pet Therapy program. "Spring" wants to remind everyone to Vote for Providence Little Company of Mary in the Daily Breeze 2015 Reader's Choice Awards!
Just wanted to thank you for the visit from Ozzie while I was at Little Co. Hospital this week. That big ol' curly dog really brightened my day! I'm home now and doing well and have Ozzie's picture on my bedroom mirror. What a wonderful, comforting service you provide. Thanks again!
Sue Orfila
Trojans Take a Deep Breath at the Stress Management Fair
by Lillian Insalata, Thursday, April 25, 2013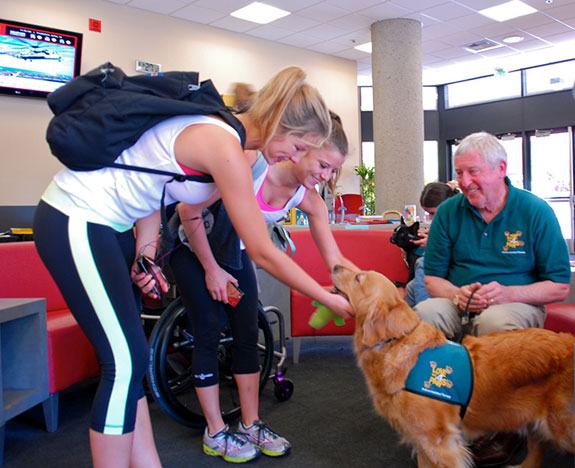 Photo by Lillian Insalata
Maddie the therapy dog comforts students during a "ruff" time of the academic year.
The USC Lyon Center transformed itself from a campus fitness center to a health resort during the Stress Management Fair on April 18. At the Stress Management Fair, the focus was on finding ways to alleviate the everyday pressures of being a student or employee.
One of the most popular stations featured two furry friends -- a golden retriever and Boston terrier -- brought by Love On 4 Paws, an animal assisted therapy organization.
Dogs "can help bring people down from their anxiety," said Patrick Wise, a volunteer with Love On 4 Paws. "It's the unconditional nature of their attention and love. There are no bad days with them."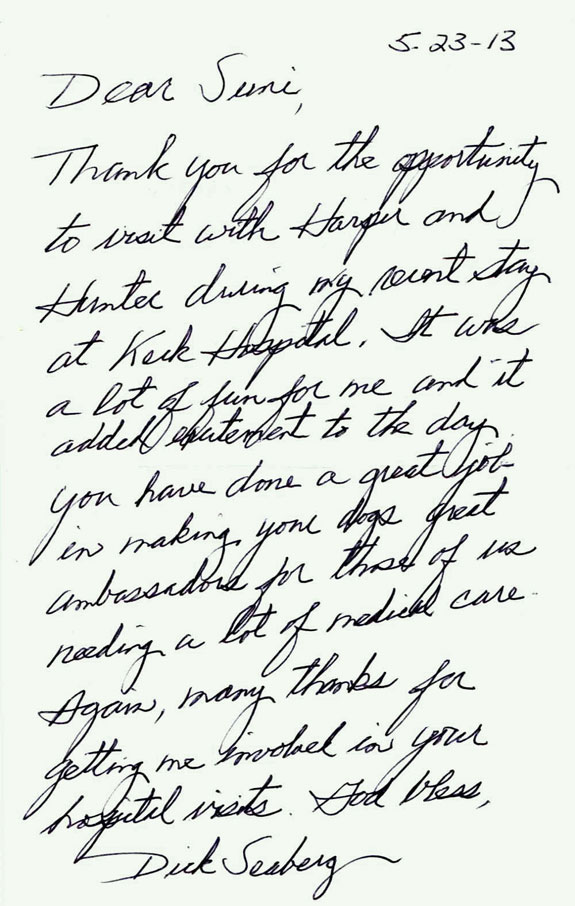 This is Teri from the Veterans Home. Just wanted to let you know how much we love having the dogs visit. We love them all: Myles, Maddie, Jasper, and more. Did Maddie's mom tell you that one of our residents was feeling especially depressed one day and Maddie jumped right up and put her head in his lap. That dog would not budge. The owner really had to coax her away from our resident. He now has a photo of the two of them to remind him of how Maddie made him feel so much better.
The residents (many of them are dog lovers) adore the dogs. We love seeing Jasper do all his special tricks. Giant Myles can just flop on the ground and we all are impressed. On the first and third Friday and Saturdays of the month, the residents get to see these wonderful friends on paws. Many will gather in our neighborhood lounge and wait for the dogs to arrive. I just want you to know how much this program means to these men and women who no longer can have dogs in their home anymore.
Thank you so much, Teri
The only bright spot in my recent stay at St. John's Hospital was the visits from you and your therapy dogs. What a wonderful service you perform! The handlers and dogs were sheer delight and did so much to alleviate the tedium and pain of the days.
Thank you with all my heart for giving of your time and effort to such a meaningful cause.
Sincerely, Miriam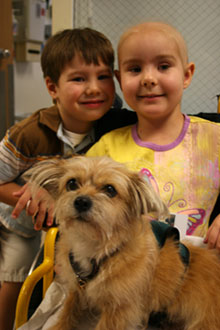 The highlight of our daughter's week is a visit from the Love On 4 Paws dogs. She has been in the hospital for a couple of months now and their visits have helped her right from the first day of therapy. That day she was asked to do something difficult and scary for her and there was a dog right by her side who turned her tears into smiles and changed something fearful into something to look forward to. We are thankful to all the volunteers and their wonderful dogs for not only making our daughter smile but making her hospital world a happier place to be.
The picture I have included is of Haley and her brother Zachary with Bunny. Her name made Haley giggle and after Bunny was placed gently on her lap, she has loved her ever since.
Thank you. Thank you. Thank you. Wendy, Pat, Haley and our son Zachary who as a sibling loves the dogs too!!!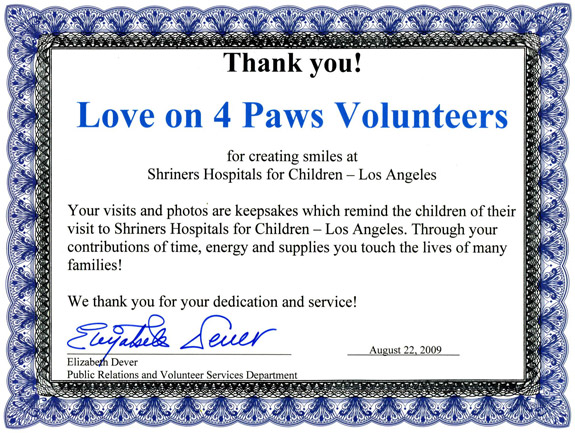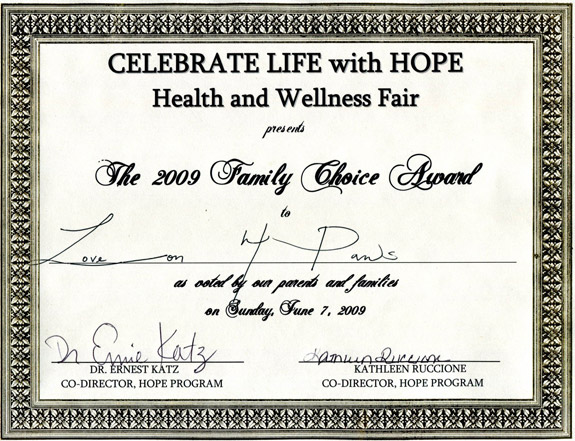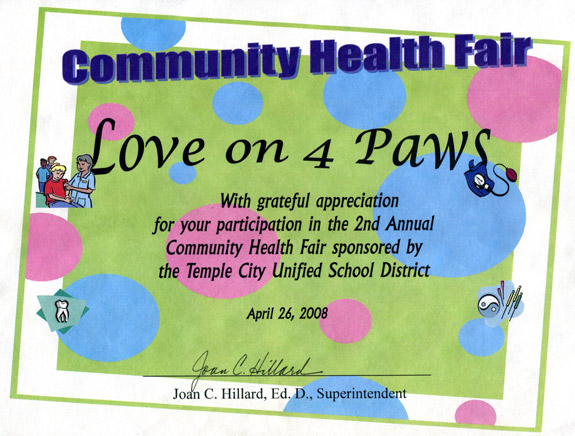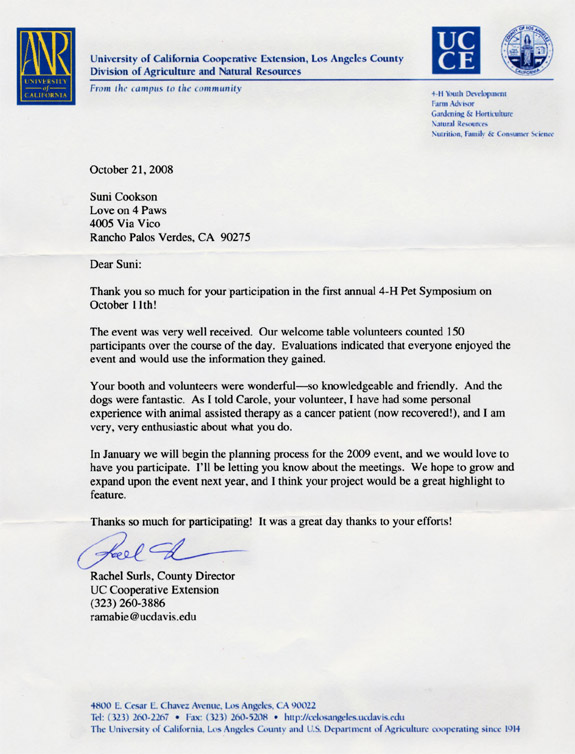 I grew up in Palos Verdes, but I now live in Northern Ireland. My mother is terminally ill and has been in and out of the LCM TCC. My father has been sending me pictures of her with the various dogs that you bring in to cheer up the inpatients. It has been wonderful to see her taking an interest in the animals, but more so for me. It has been wonderful for the family here to see pictures of her that we wouldn't see otherwise. It has been very hard being so far away at this difficult time and this has helped us to feel connected.
I wanted to say thanks for your good work and to let you know that you touch the lives of not only the people in the hospitals you visit, but also people farther away than you might imagine.
Thank you, John Fowler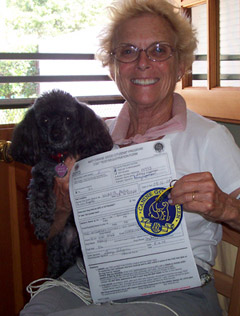 As per our brief conversation at the close of the WLAOTC Match today, August 16, 2008, I wish to express my appreciation to you for having such a dedicated, professional, and interested staff to conduct the test. Being an early arrival and candidate, Marcy, my husband's Toy Poodle, and I gratefully and successfully completed the course well before most of the other events began.
As we went through the day I was constantly aware of the CGC Staff presence in the ring, their dedication to task, and still looking and acting "fresh-as-a-daisy" as we broke camp at the end of the day. My personal thanks and congratulations to you for selecting them and to your staff for being there!
Look forward to seeing you again.
Best to all. Jeanie F. Pelzman and "Marcy"
What a pleasant surprise when Valencia walked into my hospital room and hopped up on the chair next to my bed. I managed to give her a few pets and thanked her and her handler for coming because it made my heart sing when I really needed to hear some music. It was a very short visit because nurses and doctors and relatives all descended upon me at that moment. I was hoping she would return in a while but when she didn't I understood that she was visiting people much worse off than I.
I was in St. John's in Santa Monica in July for back surgery. I did call the organization's number soon after I came home to thank them. It's time that I wrote to thank you again. I have Valencia's picture in front of me on the bulletin board and so enjoy looking at her wonderful face.
Thank you so very much for what you do. Kisses to Valencia and regards to her handlers.
Most sincerely, Maxane Goldstein
It was amazing! I was fine during the visits and I was present to so much love for all those kids and their families. I could see in their faces how grateful they were and the visit with Louie was possibly the highlight of their day. Louie was surprisingly really good! Amazing how he can be a terror at home but over there with those kids, he was really gentle and sweet. We were both drained after the visit and I cried in my car all the way home. I really appreciate being in this program with all of you wonderful people. It is changing my life and got me aware of what is really important in life and how blessed I am.
Can't wait to go back.
Thank you for checking in with me as you probably know it is not easy to talk about it with somebody outside the program.
Big hug, Volunteer
I just want to tell you how much I (and we all at Widney) appreciate the great dogs (and people) from Love On 4 Paws. The service you all provide is so valuable and deeply appreciated. Kids and staff all look forward to the dogs coming and we see some nice responses from many of our kids. As you know our population is composed of the multiply handicapped and it is a exciting as well as gratifying to me to see some of our kids respond so well to the dogs. The dogs are not simply however a pleasant experience but also an important experiential one which many of our kids would not otherwise have. What you all do means so much to me both personally and professionally and I certainly hope that we will continue to have a relationship for some time to come. Thank you for all work and spirit
Art Camplone
Just a note of thanks for the wonderful job your owners and dogs are doing. My son Sean, age 12, was diagnosed with leukemia in April. During his in-patient visits at CHLA he has truly enjoyed the Love On 4 Paws visits. Attached is a picture of Chase visiting Sean yesterday.
I'm saving all the photos taken since Sean's diagnosis. Thanks to the doggies, later in his life when he looks back at the photos, there will be some good memories during his recovery.
Wishing your foundation all the best. Thanks a million!
Maria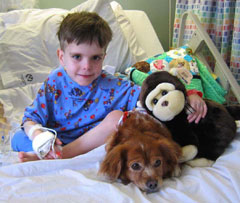 I just wanted to say THANK YOU for your organization. My son, Sean, has a scrapbook of all the therapy dogs he has had his picture taken with during his many hospital stays. They truly do bring calmness to a room with tension and lessen the pain. I was surprised how I felt during the visits and I wanted to just cry!
Gigi was able to bring a smile to my son's face after being taken off the ventilator. Little Dog brought smiles and calm to a room that was filled with pain for many days. The list goes on and on. Thank you for having those Dogs there for my son and all the children and parents!
Thank you so much. Keep up the excellent job!
Shelly, mom to Sean
Dear Irwin,
I've been meaning to write you this for a couple fo weeks. I have a wonderful story to share with you.
Two weeks ago, my daughter's friend came over with her two year old. The baby had been diagnosed 6 months ago with a rare cancer in her eye that required the removal of her eye and extensive radiation and therapy. She was living at Children's Hospital. This friend found out that our square dance club sponsors the Ronald McDonald House and she could not say enough about all the support she received from the organization and all the support her other two children received from the organization as well. Then she proceded to tell me this story when we all commented about how much the baby seemed to love my two dogs.
One day while in Children's Hospital, the little girl was in severe pain and nothing would soothe her. The doctor was just about to give her more morphone when a dog came strolling into the room with it's owner. The dog jumped on the bed and the little girl screached with delight and started petting the dog and hugging him and conpletely forgot about her pain. They never had to give her the morphone. This friend said it was such a miracle that the nurse in the room even started to cry. I know you take your dog to visit patients at West Hills Hospital so I immediately thought of you and wanted to share this. Please share this story with all your wonderful friends at Love On 4 Paws who do the same.
Caren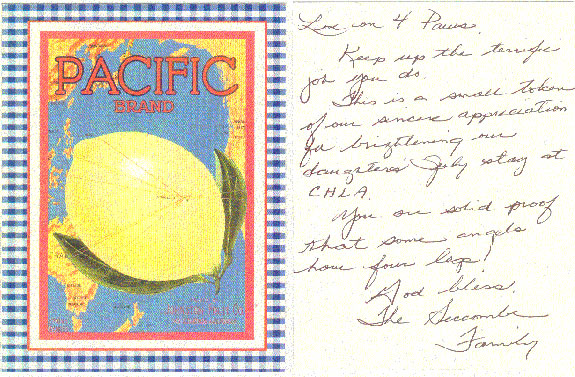 I just wanted to say thank you for making the hardest week of my life brighter. On September 6, my son Tony had to have reconstructive hip surgery at Cedars-Sinai hospital. On September 7, my daughter Hannah was at Children's Hospital LA to have kidney surgery. So, My husband and I spent our time in between hospitals for four days. Our son was discharged on the morning of the 9th and came over with my husband to Children's. Shortly after they arrived at Hannah's room, Pogo came for a visit. We all missed our own three dogs so much and being with Pogo made us all smile and feel better. Hannah was discharged that evening and they both are doing well in their recovery. I just wanted to say Thank You for all you do to bring smiles and for the pictures with Pogo. He is very sweet.
Sincerely, Kimberly