Maya the Animal Assisted Therapy Dog
Please Note: The dog in the accompanying photograph is the subject of the story, but any persons shown are probably not those in the story.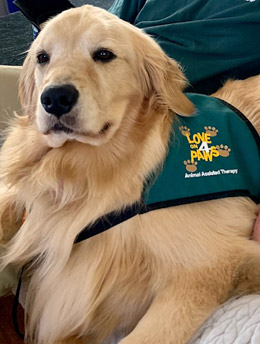 The reason that Maya is so happy and successful as a Therapy dog is because she "get's it". She understands the purpose of the visits that we make and knows exactly how to behave - regardless of the circumstances. People who meet her seem to sense the joy that she brings.
On the day of our visit, I tell her, "Maya, we are working today". She understands and begins to follow me around the house, until I get the vest. When she sees it, she gets so excited, I can't put it on fast enough. Then, she bounds into the car and, we're off!
When we make our visits to the various facilities, I tell people that Maya loves her job - only wanting to spread happiness. She particularly enjoys her visits to Providence Little Company of Mary/San Pedro. And, the staff at the hospital has gotten to know her very well.
So, when we get off of the elevator and start walking towards the nurse's station, someone will see Maya and call out, "Maya's here!". That's all she needs to hear. Her ears perk up and her tail starts wagging. She knows her friends and can't wait to greet each one of them. In the course of our visit, different staff members will thank me for bringing Maya and how much she brightens their day.
Then, as we begin to visit patients, she goes right up to each one, so they can pet or hug her. After the greeting, she turns around, facing me, and actually "poses" for a picture with the patient. To have a picture with Maya is very special.
At the end of a busy visit, on a warm day, I can tell that Maya is tired and ready to go home. But, when a nurse tells us that there is one more patient who wants to visit with Maya, she goes and happily greets the patient, posing for one last pic.