April the Animal Assisted Therapy Dog
Please Note: The dog in the accompanying photograph is the subject of the story, but any persons shown are probably not those in the story.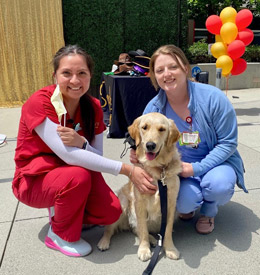 I had been watching the Love On 4 Paws website quite often for the opening of visits for our furry friends to return to USC Keck Hospital. It was closed to visitors during the COVID lockdowns. When the slots finally became available recently, I signed up immediately. Keck is a very special place, near and dear to my heart. I started visiting Keck years ago with my Spaniel, Charlie. He is retired, and my new therapy dog, April is now part of the Love On 4 Paws program. I showed up at Keck recently on a Wednesday morning and visited the nursing stations on most of the floors. At each station we were greeted by Keck's amazing, but fatigued nurses.
I don't think April has ever experienced the overwhelming admiration and joy we received that morning. I can't ever recall that much enthusiasm in all the years I've visited there. It was truly unbelievable. We heard, "The dogs are back!" and "It's been over two years, we've missed you so much!" from almost every station. A couple of nurses wanted to keep April and were nearly brough to tears. We don't always fully know the impact of our visits on everyone we greet. But I experienced it first had that first morning back at Keck. I will never forget the smiles and laughter from the staff and I'll take these memories with me always. I'll take all those feelings with me on all my future visits to Keck with my sweet April.