Tinsel the Animal Assisted Therapy Dog
Please Note: The dog in the accompanying photograph is the subject of the story, but any persons shown are probably not those in the story.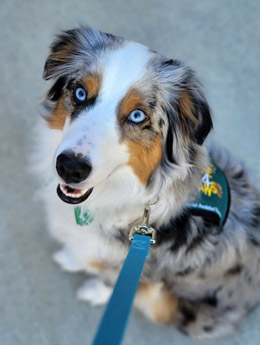 Although still considered a "puppy" at 1.5 years old, Tinsel has a very calm and loving temperament that seemed very suited to bringing smiles and brightening peoples' day.
On one of our first hospital visits we had received a request from one of the nurses to visit a patient. When we got to the patient's room, their family member looked so relieved and happy to see us. As we visited with the patient, Tinsel was placed on the bed and laid down, enjoying the pets and scratches. The patient had a huge smile on her face the entire time. From the corner of my eye I could see her family member taking photos of the patient with Tinsel, tears of joy filling her eyes as she was trying to capture the moment as much as possible. She told us that it was the first time she has seen her mom smile in over two weeks and it really made both their days! The patient had mentioned how miserable the last few days were for her and how much she missed her own pets; the visit really just made her whole week and was perfect timing as she was feeling down! We were so happy to bring a smile, joy, and furry love to them in such a meaningful visit.