Samantha the Animal Assisted Therapy Dog
Please Note: The dog in the accompanying photograph is the subject of the story, but any persons shown are probably not those in the story.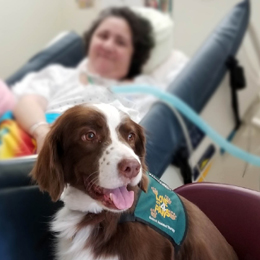 Samantha is an absolutely wonderful pet. I thought about it one day, and thought how nice it would be to share her with other people. Then I realized that if she was a therapy dog, she could make others happy, and provide some enjoyable moments for those in need. Plus we could be together and share that experience.
Transforming her into a therapy dog was more work than I originally expected. It's amazing what you can accomplish with some well placed dog treats. Once we both got through the clearance process, we started our visits. Samantha loves people, but I had trained her to focus on me. Now I had to teach her to engage with perfect strangers, with me being right there.
It took her awhile to catch onto her new job. But I am so proud of her now…she really knows how to leave the people in a better state than when she first arrived.
Each therapy dog is different, which makes their visits unique. Samantha brings so much happiness to patients, who are stuck in the hospital….everyone prefers to be healthy and home. I am so honored to chauffeur Samantha, and watch her improve the lives of others….if only for a little while.