Thomas, Suede, and Cookie visit National Guard
Please Note: The dog in the accompanying photograph is the subject of the story, but any persons shown are probably not those in the story.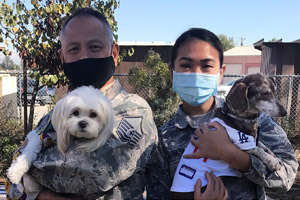 Super heroes! That is what they are…the doctors, the nurses, the medics, the social workers, and the National Guard deployed to assist with the COVID-19 pandemic. On November 10, 2020, three of the Love On 4 Paws' teams saw firsthand how true that is. They visited at the National Guard Headquarters in Long Beach, where some of those soldiers have not been home in the last six months.
It was a beautiful sunny day as our teams met in a garden site with ample room and picnic tables. The site just felt like the perfect location for conducting safe and social distanced therapy dog visits.
Thomas, a chocolate mini dapple Dachshund, was still celebrating the Dodgers' world series championship, so he was all decked out in his Dodgers' jersey. Suede, a fawn Golden Retriever, was dressed to impress in her Christmas holiday gear. Kookie, a white Malipoo, was there proudly wearing her Love On 4 Paws' vest.
These big and little wonderful pets made the National Guard Heroes smile, laugh, and even get teary eyed for a few minutes. This was a sweet distraction from the task at hand: supporting the local hospitals and health care centers as they dealt with the pandemic.
With a wiggle and a pet, a smile and a wave, the morning came to an end. But, the memories of that visit will stay with us forever!