Hazel the Animal Assisted Therapy Dog
Please Note: The dog in the accompanying photograph is the subject of the story, but any persons shown are probably not those in the story.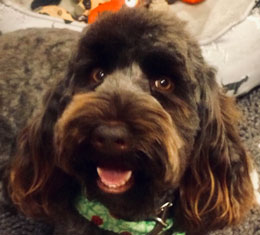 Our visit this day was at a rehab center. Hazel and I were doing bed visits and visiting staff that day. An older gentleman agreed for a visit with Hazel. His name was John. It was an ordinary visit, no treats, no tricks, just a bed visit for some snuggle time.
I remember John as being a pleasant man. After a while, three members of his family came to visit him. Since the rooms are never large enough, it was time for Hazel and me to make an exit. There was only one problem. Hazel refused to leave his bed. Normally, she pops up and jumps off the bed, and it has never been a problem before. I eventually had to physically help her off the bed. The family and I were both amazed that Hazel refused to leave their father. For some reason, Hazel became really attached to John.
About 6 months later, I found out why Hazel wouldn't leave John. I received a card from John's family. They wanted to thank Hazel and me for visiting their father. Shortly after our visit, John was diagnosed with esophageal cancer. He died two months later. The family said they think Hazel knew their father was quite ill and didn't have that much time left.
After reading their card, I was sad for the family's loss. Their father had spoken to the family, about how much he had enjoyed Hazel's visit. It made me very proud of Hazel. I always knew she was an extra special canine. She has been so different than any dog I have ever owned. It was then, I realized just how powerful and meaningful our visits can be at times. I consider myself to be very fortunate to have such an amazing and wonderful partner in Hazel.
I am able to share this wonderful dog through volunteering with Love On 4 Paws.