Benny and Thomas the Animal Assisted Therapy Dogs
Please Note: The dog in the accompanying photograph is the subject of the story, but any persons shown are probably not those in the story.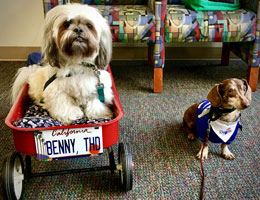 Benny, a Shih-Tzu mix, and Thomas, a Dachshund, thought they were just on a routine visit at a hospital. When they arrived on the 6th floor, one of the nurses asked both dogs to visit with a particular patient. She was an elderly woman in the last hours of her life and it was her dying wish to see her pets. Due to liability issues, the hospital could not grant her request.
When Benny and Thomas entered her room, a sheet was placed over her bedding. Then Benny was placed on one side of her and Thomas on the other. They both stayed very still as she enjoyed their company. The patient couldn't talk, but she suddenly reached over and grabbed the hand of one of the handlers. She placed the handler's hand near her (the patient's) heart and looked at the handler with thankful eyes. Although the patient could no longer speak, her gesture said it all.
At some point the doctor and family members entered the room. We took pictures with our instant-type cameras and gave them to the family members. They were so appreciative of Benny and Thomas!
Before we left the room, we were told that the family made plans to send her home in an ambulance to see her pets. One of the family members also shared they were told she might pass away on her ambulance trip home.
Benny, Thomas, and their handlers left the room. They did a group hug, and realized this was not a routine visit.