Max the Animal Assisted Therapy Dog
Please Note: The dog in the accompanying photograph is the subject of the story, but any persons shown are probably not those in the story.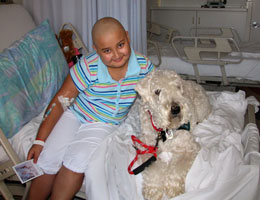 There are few dogs that are less likely to become an Animal Assisted Therapy dog than the Soft Coated Wheaten Terrier. Affectionately referred to as "Wheaties", they are from Ireland and are well-known for their impish, sprightly personality, their boundless knock-you-over energy, the famous Wheaten Greetin' (down on all fours, Christmas tree-shaped tail wagging high in the air), and their zany, zesty, joyous demeanor. It is no accident that they are referred to as the Leprechaun of dogs.
So, my long-time dream of becoming a volunteer therapy dog handler was not exactly well thought out when Max came bouncing into my home as an 11-week old puppy. I had plans to start training as soon as possible; Max had plans to play, kiss, eat flowers, and show off his clever wit and mischievous pranks.
Undeterred, I enrolled in a basic obedience training class. Oh boy, Max had such a great time! He was cheerfully oblivious to my humiliation when we stood out as the only puppy team to fail the class. But our "failure" had a bright side because it gave us a chance to grow together as a team.
As a puppy, Max had short brown coarse hair, but by age 2, his soft hair emerged. His platinum-colored, curly hair was a surprise. But, as a volunteer team for Love On 4 Paws, Max puts that soft thick hair to good use. He just loves to visit the children at the Frances Blend School. Even if the kids have trouble seeing Max, they certainly can feel him! He sits patiently while they stroke his back, and he's careful not to move too fast when they walk him down the halls or around the outdoor courtyard. The very best moments are when the children hug him for cuddly-perfect pictures.
At Childrens Hospital LA, we had a special request to visit a child in the Intensive Care Unit. In the corner of a large room, hard to see under all the bed clothes, lay a tiny beautiful girl, about 4 years old. She had won the hearts of everyone, but she never smiled. "Psst", whispered her nurse. "Would you bring Max in and just put him on the chair next to her bed? We think she'll know he's right there."
Max tip-toed into the room, hopped on to a sheet-covered chair, and gently arranged himself among all of the tubes, monitors, and hanging IVs. He seemed to know that this visit would be different because he was unusually calm, quiet, and alert. He sat upright, looking at her with his big brown eyes, his bright curly hair dancing atop his head, all else as controlled as a stuffed teddy bear.
She turned and looked at Max. Her eyes focused; her mouth curled up into a smile! With a lucky click, I captured her picture. The staff was so excited because she had smiled for the very first time, and they had the picture with Max to prove it.
Every visit, every hour of volunteering for Love On 4 Paws, is so rewarding because there is no better feeling than accompanying Max as he works his magic with children, adults, families and staff. Most important, Max is happy using his energy and smarts in a meaningful and productive way. After our visits, he yawns his way onto his favorite pillow and melts into a well-deserved, undisturbed nap. The rambunctious Max has taught me how to love quietly, talk silently, live peacefully, and give graciously.