Daisy the Animal Assisted Therapy Dog
Please Note: The dog in the accompanying photograph is the subject of the story, but any persons shown are probably not those in the story.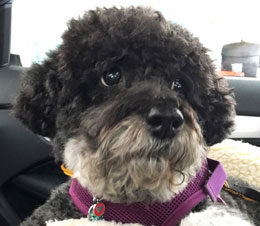 Daisy visits a subacute care facility, where many of the patients are non-responsive, and have other limitations. On one of Daisy's visits, she encountered a little boy. He liked to walk around, but he could only go as far as his fixed equipment would permit. That was about five steps from his bed.
From the moment he met Daisy, all he wanted to do was walk her. So I put a second leash (to prevent any falling or other mishap for the patient,) and off he went on his big adventure, walking Daisy. Now Daisy didn't really understand why he wasn't walking her all over the facility, but she quickly adjusted to his limitations. In fact, I think she thought it was a new game.
It's so amazing, because this patient never leaves the facility, and yet he gets all dressed up and ready to take Daisy on a walk, every time we visit him.