Bella the Animal Assisted Therapy Dog
Please Note: The dog in the accompanying photograph is the subject of the story, but any persons shown are probably not those in the story.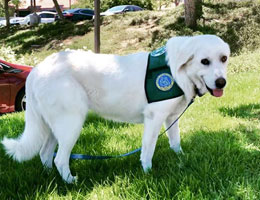 After our recent visit to a specialized youth center, I had the idea to prepare a list of all the tricks that Bella could do, which I put in a sheet protector and brought along with me. These young people loved that she could do so many tricks and each one wanted to queue her to perform them.
So many of the them wanted to take Bella for a walk that I gave them each a number. It was like the deli counter when I called out a number so that each child could walk Bella. It was really fun!
At the end, one of the older girls asked if she could take Bella for a walk by herself. She said she wanted to talk with Bella about her troubles. I said yes and she took Bella out for a walk, sat her down for a talk (all within sight and easy for me to step in if needed) and then we joined up a few minutes later. It was very touching.
Children always love to have someone to talk to. The best part about Bella is that she always listens and keeps it all secret.