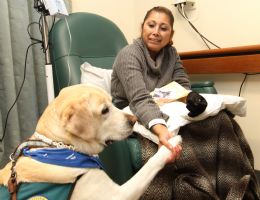 Elvis at White Memorial
How is the Love On 4 Paws program different from other animal assisted therapy programs?
The Love On 4 Paws program is different because it brings the healing and comforting presence of animals to people in hospitals and schools in Los Angeles and the surrounding area, utilizing several different therapy or teaching modules. Trained volunteers bring their own pets on the visits: dogs, rabbits and cats. In addition to providing animal assisted activities, many of our volunteer teams are trained to participate in therapeutic interventions (in groups or on a one-to-one basis) for children undergoing rehabilitation therapy as a result of strokes, birth defects, reconstructive or orthopedic surgeries or traumas. In providing animal-assisted therapeutic interventions, we develop modules with special education or physical and psychological therapy staff at the facilities we visit.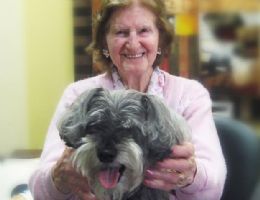 Hanz at Grandview
What makes a good therapy animal?
Temperament and sociability are the most important factors we are looking for in a therapy animal. We want an animal that is self-assured and confident, without being aggressive: an animal that has been well socialized and exposed to many types of situations, people and animals. An animal who is friendly and who really likes people is a promising candidate. The dog (cat or rabbit) must be well-behaved - no jumping, running around, barking, or licking people uncontrollably - and must always be under the handler's precise control. In addition, a therapy animal must be comfortable working around people who are bedridden or in wheelchairs; they must be able to deal with the excited squealing and grabbing of small children, the beeping and alarms of medical equipment, and the unpredictability of patient or parent reactions. In addition to all of this, these wonderful animals must enjoy their work.
Return to Top
Can my animal be trained to participate in this program?
Yes, an animal can be trained to be a therapy animal. However, the animal must be friendly to start with; he/she must like strangers and be virtually "people-proof". If a child pulls the animal's tail, the animal may be startled but rather than bark, bite, or run away, the animal should look to the handler for a signal. Highly trained dogs with many titles are not necessarily good therapy dogs; they may not like all strangers or may perceive a normal disturbance as a threat. If your animal is friendly, he / she can be trained to be comfortable around wheelchairs, to lie down on a bed and cuddle next to a patient, or to assist in rehabilitation therapies.
Return to Top
How Can I Prepare My Dog To Become A Therapy Dog?
Enroll yourself and your dog in obedience classes. We recommend classes because other dogs will be present. Your dog must learn to focus on you despite whatever else may be going on. In addition, we often work in teams of five or six at the hospital, so it is imperative that your dog not become too excited or distracted in the presence of other dogs.
To pass the Love on 4 Paws test, your dog must have a solid "sit", "stay", "down", "come", and "leave it". "Leave it" is the command we use to stop inappropriate behavior, such as picking up a pill from the floor or sniffing another dog. Your dog must also be able to do loose leash walking. While we do not require formal heeling, it would be hazardous to allow your dog to pull you down hospital corridors.
We also strongly suggest that you teach your dog potty commands. It is important that your dog be given the opportunity to eliminate immediately before entering the hospital. A dog that is able to potty on command is unlikely to have an accident in the hospital. Simply telling your dog what he is doing time every time you see him relieve himself, will help him attach the word to the action.
Return to Top
How long does it take to become certified?
After going through a therapy dog class and passing an evaluation, you and your animal are on your way to becoming a therapy team. On the first visit, you will follow an experienced team on their visit. On the next several visits, an experienced "coach" will help you learn the appropriate ways to visit with your animal. There is no set time; however, the average time to be able to visit on your own is three months.
Return to Top
Where do Love On 4 Paws therapy teams work?
Our teams work in hospitals, schools, and assisted living facilities.
Return to Top
What do therapy animals actually do?
Therapy dog activities vary from simply snuggling a patient and offering a warm furry body for petting, to more advanced skills such as walking with walkers, playing catch, fetching, doing obstacle courses with patients, etc. All of these activities are designed to:
Promote a feeling of well-being
Decrease physiological phenomena such as blood pressure, depression, heart rate, etc.
Raise self-esteem
Encourage communication
Provide unconditional love and acceptance.
Specific animal-assisted therapeutic interventions have the function of:
Encouraging and aiding speech ability
Stimulating memory functions
Motivating physical activities for the mobility impaired
Providing practice for blind children when they are learning to use their canes
Assisting in physical therapy for the orthopedically disabled
Modeling relaxation with patients in pain
Participating in one-to-one therapy sessions for developmentally delayed patients.
Return to Top
How do my animal and I become certified?
You and your animal can become certified by contacting the Love On 4 Paws program to get specific information. In addition to passing the evaluation and participating in the workshop and on-site training, your animal must have a health screening by a veterinarian (which consists of an office examination and a fecal examination), and all required vaccinations must be current. You, the handler, must have a current TB test.
Return to Top
How much does it cost?
Before you attend an orientation, you will need to pay for a physical exam done by your own veterinarian. Since many contagious conditions do not have obvious symptoms, we must ensure, for everyone's safety, that all animals attending the orientation and evaluation are healthy. In addition, there is a one-time orientation and evaluation fee of $50. If your animal passes the evaluation, we provide the uniform, a smock or polo shirt for you and a vest for your animal, free of cost.
Return to Top
What kind of commitment is required?
The required commitment to be an active volunteer for the Love On 4 Paws program is three visits a month. Each visit will last approximately 2 hours. Scheduling visits is done on our automated scheduling system, and we ask you to sign up in advance so we can notify the facility you will be visiting with your animal. In addition, we may ask you to participate at events where we have a booth or when we give demonstrations.
Return to Top
Can I participate even if I do not have a therapy animal?
Sometimes. The Love On 4 Paws program has a few positions available for those with special skills. Contact Love On 4 Paws for further information.
Return to Top
How do I become a Love On 4 Paws Volunteer?
Thank you for asking. Please contact Suni Cookson at (310) 547-2200 or send email or complete and submit the online volunteer questionnaire.
Return to Top
How can I help the Love On 4 Paws program?
Tell your friends about us - they may want to volunteer. Let us know if you have any contacts for fund-raising or a contact who would like to be a Love On 4 Paws sponsor. Join our program and volunteer - share the joy your animal can bring and change tears to smiles and frowns to laughter. No healthcare technology can take the place of shaking a furry paw or brushing a floppy ear.
Return to Top
Why do we need Polaroid cameras and film?
Since volunteer visits include a Polaroid picture of the patient with the visiting dog, you will be given a Polariod camera and film. Preprinted personalized labels, which we will provide for you to put on the pictures you take, will include the name of your dog and our name, Love On 4 Paws. These photos often become treasured mementos.
Return to Top