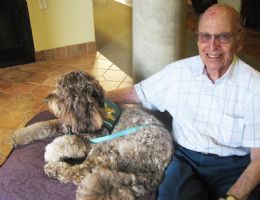 Maddie at Grandview
"Here come the dogs!" says the nurse excitedly. Everyone turns to look at the parade of volunteer teams coming down the hospital corridor. Each team consists of a handler and a four legged, cold nosed, tail wagging therapy dog. Although these special canine therapists are all shapes and sizes, pure breeds and "all americans", they share a single purpose: to bring happiness and comfort to the sick or disabled. These wonderful therapy animals have a way of making every person visited feel special. It has been well documented that the non-judgmental acceptance and unconditional love given by therapy animals play an important role in reducing stress, boosting self-esteem, and decreasing recovery time.
Video interview of Love On 4 Paws
Who We Are
Love on 4 Paws is an animal assisted therapy program that provides trained volunteer handler and therapy animal teams to local hospitals and schools. At present there are about 120 active (human) volunteers in the program. Each volunteer brings his / her dog, cat, or rabbit at a scheduled time and spends an hour or two visiting. A minimum of 3 visits per month is expected. Behind the scenes, the Love on 4 Paws directors and staff handle evaluations, training, scheduling, coaching, and other administrative tasks.
Visit Love On 4 Paws animal volunteers here...
Where We Visit
Currently, Love on 4 Paws sends volunteer teams to:
153rd Street Elementary School (for hearing impaired children)
All Saints Health Care
Atwater Park School (for special needs children) and other specialized schools and adult facilities
Frances Blend School (for visually impaired children)
Kaiser Foundation Hospital West LA
Keck Hospital of USC
Providence Little Company of Mary Medical Center San Pedro
Providence Little Company of Mary Medical Center Torrance
Shriners Hospital for Children Los Angeles
St. Vincent Medical Center
New Volunteers
We are always interested in new volunteers. If you feel that your furry friend would make a wonderful therapy animal, and if you are willing to make the commitment to become an animal assisted therapy team, please read the volunteer page and contact us.