The Love On 4 Paws program provides animal assisted therapy to:

Enhance the overall quality of life.
Develope therapeutic interventions to meet rehabilitation goals.
Decrease loneliness and depression. Love On 4 Paws animals give unconditional love and acceptance.
Remove barriers, allowing animals to become part of the life experience.
Prepare handicapped children for the companionship of a service animal.
Increase motivation for those with physical limitations.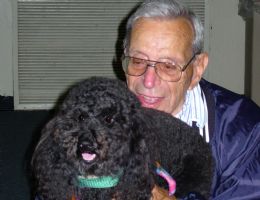 Harlie at Salvation Army Adult Day Care Center
Love On 4 Paws volunteer handler / pet animal teams are experienced in interacting with people who are ill, physically handicapped, developmentally delayed, or multi-handicapped. For these people, simple tasks or unexpected situations can become discouraging obstacles, sometimes preventing interaction with others. Animal assisted therapy visits counteract isolation and facilitate socialization, while helping build motor skills, cognitive skills, and self-confidence. As self-esteem increases, feelings of sadness, pain, and vulnerability decrease. It is amazing to watch the way therapy animals bring smiles and happiness to any environment. Suddenly hard work becomes more enjoyable, and challenges become less daunting.
Love On 4 Paws is a tax-exempt, charitable organization under Internal Revenue Code Section 501(c)(3). The California Attorney General's website makes detailed financial information available on all charities. For example, click here to see the year 2011 income tax return for Love On 4 Paws.
History of the Love On 4 Paws Program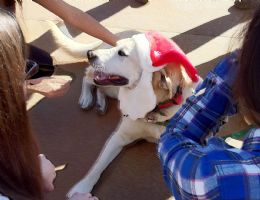 Hershey at Pepperdine University
In 1990, Sharlene Lauretz began taking her dogs to visit a special education facility where her autistic, developmentally delayed daughter was enrolled. Sharlene was amazed that so many children, who often seemed unaware of the surroundings, responded to the dogs. Seeing that interacting with the dogs was clearly helping the children focus and concentrate, Sharlene recruited other people and their dogs to participate in Animal Assisted Therapy sessions. In 1995 Sharlene met with the Principal of Lanterman High, a school for learning disabled, developmentally delayed, autistic and multi-handicapped students. The Principal decided to try dog visits in her classrooms and was elated with the results. Soon the program's success at Lanterman opened the doors to other special education classrooms in the Los Angeles Unified School District.
With many volunteer teams doing regularly scheduled classroom visits, Sharlene organized the group and created Love On 4 Paws, a California Non-Profit Corporation. As Love On 4 Paws grew, the organization expanded its reach to nursing homes and Alzheimer units. In 1999 Sharlene was contacted by Shriners Hospital, which specializes in treating children with severe burns or catastrophic orthopedic problems. The staff of Shriners not only encouraged the teams to visit the kids in their rooms, they also integrated the dogs into their Physical Therapy program. The dogs created a wonderful distraction during painful exercises and difficult procedures. They brought smiles and laughter to the Rehabilitation Department and eased the tension of the children being fitted with prosthetic arms and legs.
Other hospitals decided to invite Love On 4 Paws onboard, with impressive results. The teams provided a much needed diversion for cancer patients, eased the boredom of dialysis treatments, snuggled with seriously ill children in Pediatric Intensive Care, entertained recovering medical and surgical patients, and participated in various Physical Therapy exercises. The hospital staff and parents also benefitted from the unconditional love and universal acceptance the dogs consistently demonstrate.
Over the following years, the list of hospitals and facilities visited expanded greatly. The present hospital roster includes locations such as Providence Little Company of Mary Torrance & San Pedro, Keck Hospital of USC, Shriners Hospital, St. Vincent Medical Center, and White Memorial Medical Center. In addition, the organization continues it's tradition of visiting assisted living facilities, long term care facilities, and schools for children with special needs.
Love On 4 Paws has grown from an initial handful of volunteers to nearly 100 active members today.
As a volunteer for Love On 4 Paws, you are part of a special group. The information under Frequently Asked Questions will answer many of your questions. If you have other questions, we are available and more than happy to answer them. Send us email or call us at (310) 547-2200.